Miami, Miami-Dade County
Miami is a city in Miami-Dade County, Florida. The city is located at 25°45'42"N and 80°11'30"W. According to the United States Census Bureau, the city population was 430,332 persons. As of the last census, the median income for a household in the city was $29,989. Please visit the city page at my website and you'll be able to see all real estate data and detailed Miami statistics.
know more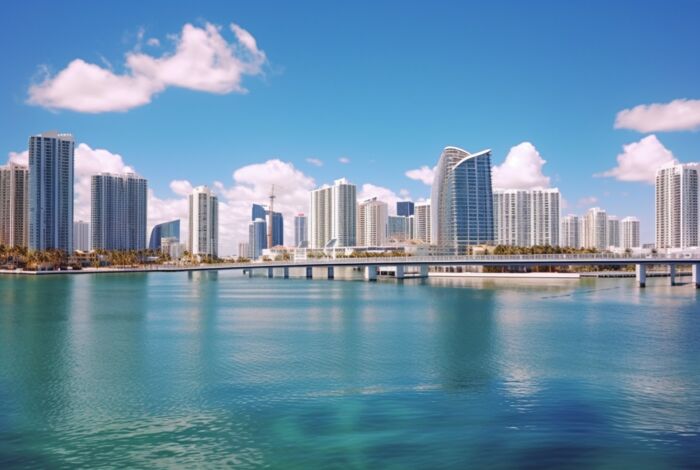 What's trending now in the market
Saudi Arabia's newest attraction: roller...

by

TRD Staff

on 2021-10-24 at 6:00 PM

Oil-dependent Saudi Arabia is taking literally the concept of economic diversification. The kingdom has announced plans to convert an oil rig in the Arabian Gulf into a 1.6-million-square-foot "extreme park" and resort, according to CNN. The Saudi Arabia Public Investment Fund is behind the project, dubbed "The Rig." It would include three hotels, 11 restaurants, helipads, […]

John Catsimatidis breaks ground on 46-story condo...

by

TRD Staff

on 2021-10-24 at 4:00 PM

Billionaire John Catsimatidis broke ground on the tallest tower on Florida's Gulf Coast this week. The 46-story condominium tower in St. Petersburg is also the first residential project outside New York and the first condo project for the developer and businessman's Red Apple Real Estate. The project totals 1.3 million square feet. The Residences at 400 Central is slated to rise on a […]

Australian town is inundated with inquiries after...

by

TRD Staff

on 2021-10-24 at 1:00 PM

A small town in the Australian Outback offered free land to draw in new residents. It worked almost too well. Officials in the rural town of Quilpie, Queensland have been overwhelmed by more than 250 inquiries from as far afield as Britain, India, and Hong Kong, although only Australias or permanent residents are eligible, according to the Associated Press. Quil[pie, home to just 800 people, […]
Your Home Equity Is Growing [INFOGRAPHIC]

by

KCM Crew

on 2021-10-22 at 10:00 AM

Some Highlights If you're a homeowner, today's rising equity is great news. On average, homeowners have gained $51,500 in equity since this time last year. Whether it's funding an education, fueling your next move, or starting a business, your home equity is a great tool you can use to power your dreams. Ready to sell? Let's connect to talk about how you can take […]

Important Distinction: Homes Are Less Affordable,...

by

KCM Crew

on 2021-10-21 at 10:00 AM

It's impossible to research the subject of buying a home without coming across a headline declaring that the fall in home affordability is a crisis. However, when we add context to the most recent affordability statistics, we soon realize that, though homes are less affordable than they have been over the last few years, they

Looking To Move? It Could Be Time To Build Your...

by

KCM Crew

on 2021-10-20 at 10:00 AM

While today's supply of homes for sale is still low, the number of newly built homes is increasing. If you're ready to sell but have held off because you weren't sure you'd be able to find a home to move into, newly built homes and those under construction can provide the options you've been waiting
Experience The Difference With All Your Real Estate Needs
Keller Williams Realty Partners SW
2000 NW 150th Ave, Ste 1100 Pembroke Pines, Florida 33028
My client's needs are of the most utmost importance with over fifteen years of experience in real estate, excellent customer service and a commitment to work hard by listening to my clients needs and following through is a main component that sets my apart from other realtors. I like to win for my clients but do it with charm and a smile. I have a combination of southern hospitality and an ethical, honest, hardworking passion for real estate. Building trust and long-lasting relationships with my clients is imperative.
High probability of successfully completing the transaction
You can relax with confidence knowing you are in good hands
Excellent market knowledge of the area
Our client's data is entirely confidential and encrypted
We guarantee a high level of engagement