Miami, Miami-Dade County
Miami is a city in Miami-Dade County, Florida. The city is located at 25°45'42"N and 80°11'30"W. According to the United States Census Bureau, the city population was 430,332 persons. As of the last census, the median income for a household in the city was $29,989. Please visit the city page at my website and you'll be able to see all real estate data and detailed Miami statistics.
know more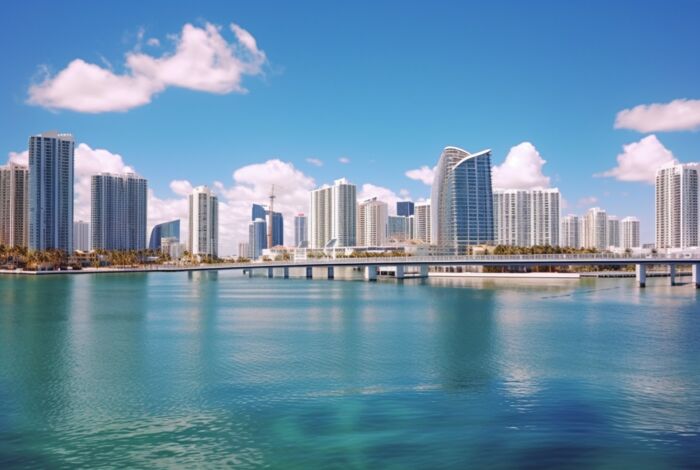 What's trending now in the market
Mister Rogers' home in the Pittsburgh...

by

TRD Staff

on 2021-04-18 at 1:00 PM

A home in what had been Mister Rogers' neighborhood hit the market for $850,000. The 3,700-square-foot brick house in Pittsburgh where the children's TV show star Fred Rogers and his wife Joanne once lived. The New York Post first reported on the listing. The property at 5381 Northumberland Street is located just outside the Carnegie Mellon University campus; the couple lived there […]

Bally's buys Las Vegas' Tropicana casino for...

by

TRD Staff

on 2021-04-17 at 6:00 PM

Bally's is making a bet on the Tropicana Hotel & Casino in Las Vegas. Bally's agreed to buy the operations business for the hotel and casino, while the REIT Gaming & Leisure would retain its ownership of the property itself and continue to collect rent, Bloomberg News reported. Bally's has been on an acquisition streak lately, having recently struck a $2.7 billion deal […]

Macerich unloads Phoenix mall for $100M;...

by

TRD Staff

on 2021-04-17 at 4:00 PM

Macerich Company has sold a Phoenix mall for $100 million, as the mall REIT continues to battle back from a withering year of losses. The buyer is a joint venture affiliated with Red Development, according to the Los Angeles Business Journal. Santa Monica-based Macerich retained a 5 percent interest in the JV, which plans to redevelop the Paradise Valley Mall, on property that encompasses 92 […]
Home Is Where the Heart Is [INFOGRAPHIC]

by

KCM Crew

on 2021-04-16 at 10:00 AM

Some Highlights There's no doubt about it: homeowners love their homes, and that feeling has become even more important over the past year. The vast majority of homeowners say they're emotionally attached to their home and that it has kept them safe during the COVID-19 pandemic. Owning a home provides a sense of safety, security, and accomplishment. Let's connect to move […]

Why This Is a Great Year to Sell Your Vacation...

by

KCM Crew

on 2021-04-15 at 10:00 AM

As vaccines are administered and travel resumes, many of us are beginning to plan for those long-awaited vacations we missed out on over the past year. Some households are focusing their efforts on buying a vacation home rather than staying in a hotel, too. The National Association of Home Builders (NAHB) reports: "Second homes (i.e.,

93% of Americans Believe a Home Is a Better...

by

KCM Crew

on 2021-04-14 at 10:00 AM

A recent Survey of Consumer Finances study released by the Federal Reserve reveals the net worth of homeowners is forty times greater than that of renters. If you're wondering if homeownership is a good investment, the study clearly answers that question, and the answer is yes. Do Americans believe a home is a better investment
Experience The Difference With All Your Real Estate Needs
Keller Williams Realty Partners SW
2000 NW 150th Ave, Ste 1100 Pembroke Pines, Florida 33028
My client's needs are of the most utmost importance with over fifteen years of experience in real estate, excellent customer service and a commitment to work hard by listening to my clients needs and following through is a main component that sets my apart from other realtors. I like to win for my clients but do it with charm and a smile. I have a combination of southern hospitality and an ethical, honest, hardworking passion for real estate. Building trust and long-lasting relationships with my clients is imperative.
High probability of successfully completing the transaction
You can relax with confidence knowing you are in good hands
Excellent market knowledge of the area
Our client's data is entirely confidential and encrypted
We guarantee a high level of engagement