Miami, Miami-Dade County
Miami is a city in Miami-Dade County, Florida. The city is located at 25°45'42"N and 80°11'30"W. According to the United States Census Bureau, the city population was 430,332 persons. As of the last census, the median income for a household in the city was $29,989. Please visit the city page at my website and you'll be able to see all real estate data and detailed Miami statistics.
know more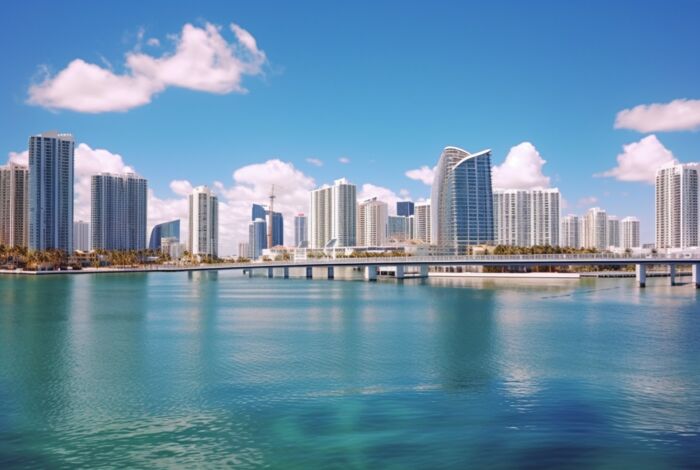 What's trending now in the market
Horizon Properties pays $33M for Publix-anchored...

by

By Francisco Alvarado

on 2021-09-22 at 3:30 PM

For the second time this month, a Publix-anchored shopping center is at the heart of a big-ticket retail sale in South Florida. An affiliate of Horizon Properties of Miami bought El Mercado Plaza in Hialeah for $33 million, records show. Publix is the anchor tenant in the 101,484-square-foot shopping center at 2400 West 60th Street, taking up 42,112 square feet. Other tenants include Bank of […]

Covid surge dims enthusiasm for ICSC Vegas...

by

By Sasha Jones

on 2021-09-22 at 2:30 PM

It's been nearly two years since the real estate community has been able to attend its big Las Vegas retail industry bash, ReCon, hosted by the former International Council of Shopping Centers. The December conference is usually a highlight of the year, along with being great for business. But The Real Deal found mixed reactions about attending from those who would normally be enthusiastic […]

Seagis Property Group buys logistics firm's...

by

By Lidia Dinkova

on 2021-09-22 at 1:45 PM

Seagis Property Group bought a logistics company's Doral facility for $19.4 million. AmCar Lamprecht sold the property at 10100 Northwest 25th Street, two years after it purchased it for $14 million, records show. The two-story, 105,984-square-foot facility was constructed in 1974 on 5 acres, property records show. Seagis also owns the much bigger, next-door industrial facility at 10000 […]
Is a 20% Down Payment Really Necessary To...

by

KCM Crew

on 2021-09-22 at 10:00 AM

There's a common misconception that, as a homebuyer, you need to come up with 20% of the total sale price for your down payment. In fact, a recent survey by Lending Tree asks what is keeping consumers from purchasing a home. For over half of those surveyed, the ability to afford a down payment is

Remote Work Is Here To Stay. Can Your Home...

by

KCM Crew

on 2021-09-21 at 10:00 AM

A lot has changed over the past year. For many people, the rise in remote work influenced what they're looking for in a home and created a greater appetite for a dedicated home office. Some professionals took advantage of the situation and purchased a bigger home. Other people thought working from home would be temporary,

Is It Time To Move on to a New Home?

by

KCM Crew

on 2021-09-20 at 10:00 AM

If you've been in your home for longer than five years, you're not alone. According to recent data from First American, homeowners are staying put much longer than historical averages (see graph below):As the graph shows, before 2008, homeowners sold their houses after an average of just five years. Today, that number has more than
Experience The Difference With All Your Real Estate Needs
Keller Williams Realty Partners SW
2000 NW 150th Ave, Ste 1100 Pembroke Pines, Florida 33028
My client's needs are of the most utmost importance with over fifteen years of experience in real estate, excellent customer service and a commitment to work hard by listening to my clients needs and following through is a main component that sets my apart from other realtors. I like to win for my clients but do it with charm and a smile. I have a combination of southern hospitality and an ethical, honest, hardworking passion for real estate. Building trust and long-lasting relationships with my clients is imperative.
High probability of successfully completing the transaction
You can relax with confidence knowing you are in good hands
Excellent market knowledge of the area
Our client's data is entirely confidential and encrypted
We guarantee a high level of engagement