Miami, Miami-Dade County
Miami is a city in Miami-Dade County, Florida. The city is located at 25°45'42"N and 80°11'30"W. According to the United States Census Bureau, the city population was 430,332 persons. As of the last census, the median income for a household in the city was $29,989. Please visit the city page at my website and you'll be able to see all real estate data and detailed Miami statistics.
know more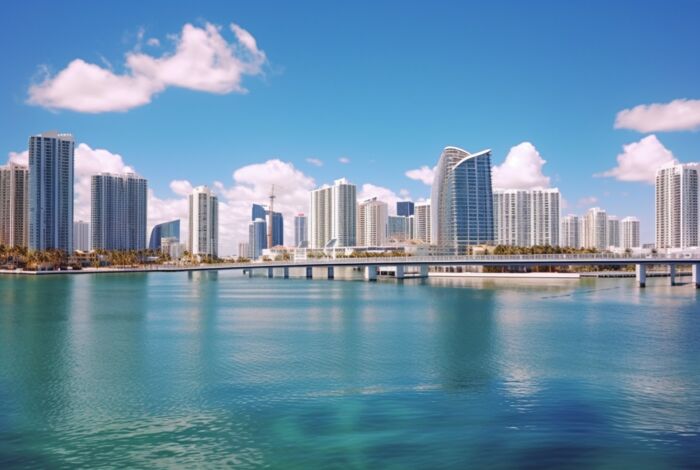 What's trending now in the market
Jumbo mortgage lenders invade Fannie and...

by

TRD Staff

on 2021-05-14 at 3:30 PM

With overnight bank funding rates near zero, investors are flush with cash — liquidity they are using to compete with Fannie Mae and Freddie Mac on the secondary mortgage market. Investors that would typically deal with jumbo loans are creeping into Freddie and Fannie's territory, financing smaller loans below the agencies' dollar cap for mortgages, according to a column in the […]

Miami Beach residents rally against proposed...

by

By Erik Bojnansky

on 2021-05-14 at 2:30 PM

The Miami Beach City Commission moved forward with approving a zoning overlay district in Sunset Harbour that encourages office development, as some residents tried to stop a hotel project in the same neighborhood from being grandfathered in. The overlay district, which was passed on first reading at Wednesday's meeting and will head to a second reading vote, increases the height limit for […]

Location Ventures buys South Beach office, retail...

by

By Lidia Dinkova

on 2021-05-14 at 1:45 PM

Location Ventures scooped up two commercial buildings along Miami Beach's Washington Avenue for $20 million. The Coral Gables-based real estate investor bought the retail property at 1260 Washington Avenue and the adjacent office building at 1234 Washington Avenue from an affiliate of Miami Beach-based Fryd Properties, led by Jonathan Fryd, records show. Location Ventures assumed a $14 […]
When It Comes To Selling a House, Your Time Is...

by

KCM Crew

on 2021-05-14 at 10:00 AM

Some Highlights Selling a house is no small task. If you decide to try to do it on your own, keep in mind you'll be responsible for all the expert-level work of a real estate professional. The vital tasks an agent manages for you include listing and marketing your house, handling legal documentation, negotiating with all parties, and navigating local laws and regulations. If […]

Your House Could Be the Oasis in an Inventory...

by

KCM Crew

on 2021-05-13 at 10:00 AM

Homebuyers are flooding the housing market right now to take advantage of record-low mortgage rates. Many have a sense of urgency to find a home soon since experts forecast a steady rise in both rates and home prices this year and next. As a result, buyer demand greatly outweighs the current housing supply. Here's how

It's Not Too Late To Apply For Forbearance

by

KCM Crew

on 2021-05-12 at 10:00 AM

Over the past year, the pandemic made it challenging for some homeowners to make their mortgage payments. Thankfully, the government initiated a forbearance program to provide much-needed support. Unless they're extended once again, some of these plans and the corresponding mortgage payment deferral options will expire soon. That said, there's still time to request assistance.
Experience The Difference With All Your Real Estate Needs
Keller Williams Realty Partners SW
2000 NW 150th Ave, Ste 1100 Pembroke Pines, Florida 33028
My client's needs are of the most utmost importance with over fifteen years of experience in real estate, excellent customer service and a commitment to work hard by listening to my clients needs and following through is a main component that sets my apart from other realtors. I like to win for my clients but do it with charm and a smile. I have a combination of southern hospitality and an ethical, honest, hardworking passion for real estate. Building trust and long-lasting relationships with my clients is imperative.
High probability of successfully completing the transaction
You can relax with confidence knowing you are in good hands
Excellent market knowledge of the area
Our client's data is entirely confidential and encrypted
We guarantee a high level of engagement