Miami, Miami-Dade County
Miami is a city in Miami-Dade County, Florida. The city is located at 25°45'42"N and 80°11'30"W. According to the United States Census Bureau, the city population was 430,332 persons. As of the last census, the median income for a household in the city was $29,989. Please visit the city page at my website and you'll be able to see all real estate data and detailed Miami statistics.
know more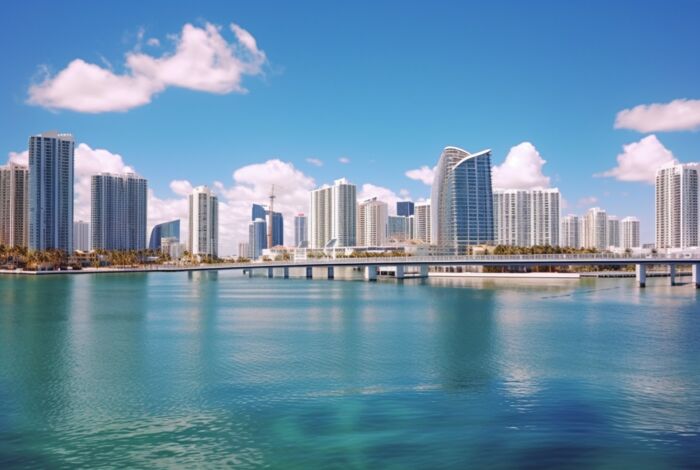 What's trending now in the market
Morgan Properties, Olayan America buy $1.75B...

by

By Dennis Lynch

on 2021-02-28 at 7:00 PM

Morgan Properties and Olayan America have purchased a portfolio of 48 U.S. multifamily properties for $1.75 billion. The seller was STAR Real Estate Ventures, a joint venture of El-Ad National Properties LLC and Yellowstone Portfolio Trust, according to a press release from Morgan and Olayan. It is Morgan's largest acquisition since the Pennsylvania-based firm bought 95 multifamily […]

"Breaking" news: Bryan Cranston lists...

by

TRD Staff

on 2021-02-28 at 5:00 PM

Actor Bryan Cranston has listed the eco-friendly Ventura County, California home he built during the final season of "Breaking Bad." Cranston and his wife Robin Dearden bought the property the home sits on in 2007 for around $2.5 million, and completed the 2,450-square-foot house in 2013. It's listed for just under $5 million, according to the Wall Street Journal. The actor […]

Global luxury home sale prices nudged up in 2020

by

TRD Staff

on 2021-02-28 at 2:00 PM

Global luxury home sale prices ticked up slightly in 2020, as pent-up demand created by coronavirus lockdowns led to buying binges. The average price for a luxury home that sold rose 1.9 percent in 2020, compared to its 1.8 percent increase in 2019, according to Knight Frank's Prime International Residential Index 100, cited by Mansion Global. While 29 of the 100 markets in the index […]
What Are the Benefits of a 20% Down Payment?

by

KCM Crew

on 2021-03-01 at 11:00 AM

If you're thinking of buying a home this year, you may be wondering how much money you need to come up with for your down payment. Many people may think it's 20% of the loan to secure a mortgage. While there are plenty of lower down payment options available for qualified buyers who don't want

It's a Sellers' Market [INFOGRAPHIC]

by

KCM Crew

on 2021-02-26 at 11:00 AM

Some Highlights Over the past year, homeowners have gained an unprecedented opportunity to sell with great success while buyer demand is soaring. With homes selling twice as fast as they did last year at this time, getting multiple offers, and rising in price, homeowners are in the driver's seat. Let's connect today if you're ready to learn about the leverage you have as […]

Are There Going to Be More Homes to Buy This Year?

by

KCM Crew

on 2021-02-25 at 11:00 AM

If you're looking for a home to purchase right now and having trouble finding one, you're not alone. At a time like this when there are so few houses for sale, it's normal to wonder if you'll actually find one to buy. According to the National Association of Realtors (NAR), across the country, inventory of
Experience The Difference With All Your Real Estate Needs
Keller Williams Realty Partners SW
2000 NW 150th Ave, Ste 1100 Pembroke Pines, Florida 33028
My client's needs are of the most utmost importance with over fifteen years of experience in real estate, excellent customer service and a commitment to work hard by listening to my clients needs and following through is a main component that sets my apart from other realtors. I like to win for my clients but do it with charm and a smile. I have a combination of southern hospitality and an ethical, honest, hardworking passion for real estate. Building trust and long-lasting relationships with my clients is imperative.
High probability of successfully completing the transaction
You can relax with confidence knowing you are in good hands
Excellent market knowledge of the area
Our client's data is entirely confidential and encrypted
We guarantee a high level of engagement